Olympian joins the opening of Nissan Glasgow Central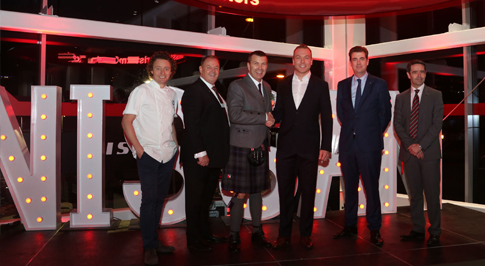 Macklin Motors has officially opened the latest addition to the Glasgow skyline, its new Nissan dealership complete with an eight-storey glass display tower.
Following a 12-month building project and an investment of more than £5million, Macklin Motors Nissan Glasgow Central was officially opened by Olympic cycling star, Sir Chris Hoy, and joined by customers, suppliers and colleagues at a glamorous event.
Guests at the event were treated to tour of the state-of-the-art facilities, a special culinary masterclass from Michelin Star chef, Tom Kitchin, and also had the chance to experience life in the fast lane in a Formula One racing simulator.
In addition, the opening also acted as the launch of the dealership's new partnership with children's charity, Cash for Kids, which saw a number of high value items, including a brand new Nissan Juke, being auctioned to raise much-needed funds.
Macklin Motors Nissan Glasgow Central boasts a dazzling eight-storey glass vehicle display tower, which rises above the M8 motorway and can be seen from miles around. It is the new premier destination for Nissan customers in Scotland and will supply the full range of new and used Nissan cars, including the all-electric Nissan LEAF, and luxury performance models, such as the hand-built GT-R.
David Crane, Chief Operations Officer of Vertu Motors plc, parent company of Macklin Motors, said on the evening: "The opening of Macklin Motors Nissan Glasgow Central is a significant milestone for Macklin Motors in Glasgow, which demonstrates our commitment and confidence in the city.
"This official opening is the culmination of more than two years of hard work by hundreds of people and an investment of millions of pounds. The team at Macklin Motors, led by general manager Robert Auld, will be on hand to offer customers a fantastic experience in the stunning surroundings of the new dealership.
"I'd like to thank everyone who has been involved in getting us to this point and thank our guests for taking the time to celebrate this fantastic milestone with us."
Alex Smith, Managing Director of Nissan Motor (GB), said: "We are thrilled and hugely excited to be adding a new dealership on this scale to the Nissan network.
"The past year has seen the opening of a number of very increasingly large and ever more impressive Nissan dealerships in major cities across the UK.
"As the biggest and arguably the most impressive of them all, Macklin Motors in Glasgow is a symbol of the aspirations Nissan has as a brand and the confidence our retail partners, like Vertu Motors, have in our ability to meet them."
Sir Chris Hoy added: "It was fantastic to be involved in the official opening of Macklin Motors Nissan Glasgow Central. This is a unique car dealership, unlike any other I've seen before and really showcases the Nissan brand."