Partick Thistle receives the backing of Glasgow Nissan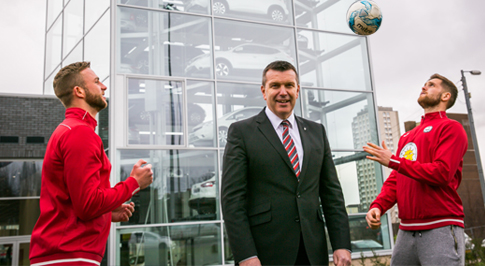 Macklin Motors Nissan Glasgow Central has given local football team Partick Thistle its backing after signing a sponsorship agreement.
The Port Dundas Road dealership, which opened in November last year following a £5m investment by parent company Vertu Motors plc, has agreed to sponsor the team until the end of the season.
As part of the arrangement, the eight-storey dealership has provided the team with four vehicles, a Nissan Juke, an X Trail and two Qashqais, for use by the manager, assistant manager, managing director and commercial manager.
Ian Maxwell, managing director, at Partick Thistle, said: "We're very pleased to have the backing of Macklin Motors. The site has a prominent place close to the stadium and does a lot of work with organisations in the city, so it's great to have partnered with the dealership."
The team holds a special place in the heart of Robert Auld, general manager of Macklin Motors Nissan Glasgow, son of Robert 'Bertie' Auld, who was Partick Thistle's manager for six years from 1974 to 1980. He said: "Macklin Motors is always keen to show its support for the local community and local sport in particular.
"Partick Thistle are my second team because of the connection with my father, but I think most people in Glasgow have a soft spot for them, and, as they're practically on our doorstep, we wanted to give them our backing. I think we can actually see their home ground, Firhill Stadium, from the top of our glass tower!"