Nissan Glasgow Central partners with local charity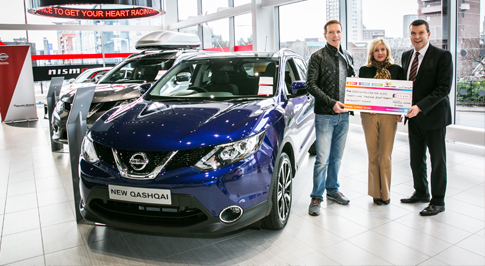 Macklin Motors Nissan Glasgow Central has officially launched a charitable partnership with Radio Clyde's Cash for Kids to help support the city's most vulnerable children.
Macklin Motors kicked off the on-going partnership at the star studded grand opening of its new £5million dealership on Port Dundas Road. The evening featured a cooking masterclass from celebrity chef Tom Kitchin and a visit from Olympic legend Sir Chris Hoy, who attended in his role as Nissan brand ambassador.
The night also saw Macklin begin to act upon its commitment by raising £29,760 for the charity, which last year supported 50,769 local children. It did so by holding an auction for a brand new Nissan Juke donated by Nissan, a stay at the luxurious Lartington Hall hotel, a HOY bike and a cycling jersey signed by Sir Chris Hoy.
Throughout 2017 Macklin Motors Nissan Glasgow Central will be holding further fundraising events and backing the charity's awareness campaigns.
Robert Auld, general manager of Macklin Motors Nissan Glasgow Central, said: "We at Macklin Motors think that businesses have a responsibility to support the communities in which they operate."
"Radio Clyde Cash for Kids is a fantastic and long established cause, which has helped two million children since 1980. We're looking forward to working with the charity throughout 2017 to have a positive effect on vulnerable young people across Glasgow and the west of Scotland."
Debbie Fraser, Radio Clyde Cash for Kids charity manager said: "Having Macklin Motors Nissan Glasgow on board is fantastic and will have a really positive impact on the work we do in Glasgow and the west of Scotland. Its whole team has already really embraced what we do and we're looking forward to working with Robert and his colleagues over the next 12 months."
Radio Clyde Cash for Kids provides a wide range of grants throughout the year to:
• Provide food during the school holidays to children who will not receive a hot meal without the support of their school
• Residential Camps in the summer holidays to support children and give them new life experiences
• Christmas grants to ensure children receive a hot meal, warm clothing, fuel cards and a small gift on the day
• Support to groups who are offering activities to children through school holidays at a local level.
• All costs for administering the charity are covered allowing Radio Clyde Cash for Kids to distribute 100% of donations received to vulnerable children in the west of Scotland either through community grants or family grants. Radio Clyde Cash for Kids is an independent charity run in partnership with Clyde 1 and Clyde 2.