Nissan Ilkeston helps Olympic gymnast on the road to Rio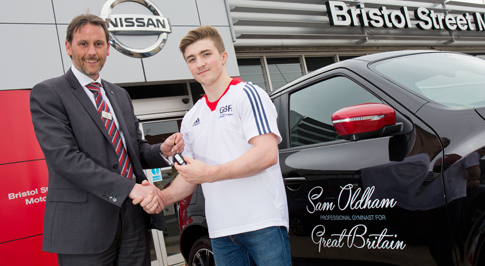 Bristol Street Motors in Ilkeston has announced its support for a talented gymnast who hopes to take part in the Rio 2016 Olympic Games.
The Nissan dealership has joined forces with Sam Oldham, who was part of the bronze medal-winning British men's team at the 2012 Summer Olympics.
The support from the Derby Road dealership comes at an important time for the 23-year old, who is also a Youth Olympic Champion, a four-time European Silver medallist and a three-time British Champion, as he hopes to take part in the upcoming Olympic Games in Rio de Janeiro.
The support of the Loughborough-based athlete complements the role of Nissan as the automotive partner for Team GB and Paralympics GB.
Sam picked up a brand new Nissan Juke from Bristol Street Motors Ilkeston's general manager, Jon Battison.
Jon Battison said: "It's great to support an incredibly talented young man who is no stranger to the global stage.
"Sport begins at home and it's a pleasure to support Sam here on his doorstep, giving him the ability to travel to training and competitions without worry.
"Sam embodies our company values of passion and opportunity as he is one of the most medalled gymnasts in Great Britain's history.
"The team at Bristol Street Motors Ilkeston would like to wish Sam and Team GB all the best on the road to the 2016 Olympic Games in Rio!"
Sam added: "I am delighted to partner with Nissan Ilkeston, which has been an important part of the community for several years.
"Gymnastics is more than just my job – it's my passion, and I am pleased to work alongside Bristol Street Motors to drive home the importance of sport on both a community and international lev