Peugeot Worksop Helps Aspiring Football Stars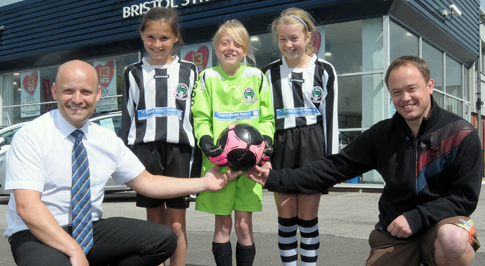 Aspiring football stars have been given a huge boost with their training and development, thanks to Bristol Street Motors Peugeot Worksop.
Both the Worksop Town Tigers Under-16 Boys and the Retford United Girls Under-10 have received a generous donation from the Retford Road dealership, which has enabled both clubs to purchase new kits and equipment.
Formed in 2003, the Tigers compete in the Sheffield and District League, while Retford United Girls play in the Nottinghamshire Girls & Ladies Football League after being set up last May.
Denise Marsh formed the Tigers after her son was looking for a football team to play for and is also the club's coach and manager, after taking her Football Association coaching courses at Level 1, Level 2 and Level 3, as well as the Goalkeeping coaching certificate.
The manager of the Retford United Girls, Scott Mowbray, who also holds a Level 1 Football Association coaching badge, has been involved with local football for over 15 years, both as a player and a coach. He works at Bristol Street Motors Peugeot Chesterfield, and his daughter Libby, is a member of the team.
Andy Brown, General Manager of Bristol Street Motors Peugeot Worksop, said: "We are delighted to be supporting local sports clubs as it will help young people in the Worksop area develop their skills in a productive way.
"It is important to support local clubs and causes in any way that we possibly can. I hope the new football kits and training equipment make a huge difference to both the Worksop Town Tigers and the Retford United Girls, in their development. Everyone here at Bristol Street Motors Peugeot Worksop wishes both clubs all the best going forward."
Scott said: "We're very grateful for the kind sponsorship money from the dealership, which will really help the club. The price of gear nowadays means it is difficult for the club to afford it, so we are really appreciative of Peugeot Worksop for supplying the club with this money."
Denise said: "I can't thank Bristol Street Motors enough because this generous sponsorship money will benefit the club greatly. I am a firm believer that having children involved in sports clubs teaches them vital social skills and discipline, which will put them in good stead for the future, and the dealerships' help ensures that the team can last and these values will continue to be taught."